OBC: Lorca with a symphonic soul
28 November 2021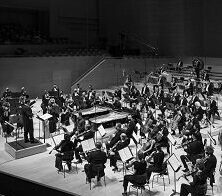 Barcelona. Auditori. 22-11-2021.
Symphony of Barcelona and National of Catalonia.
Conductor: Josep Caballé Domenech. Mezzo-soprano: Lydia Vinyes-Curtis. Singer: Pere Martínez. Pianists: Carles Marigó and Marco Mezquida.
Works by Palomar and Prokofiev.
After a year and a half of work in Berlin, the city where he has lived for eight years, the Catalan composer Enric Palomar has put together a large symphonic triptych for two pianos, two singers and an orchestra, Three Dark Loves, based on three poems by Federico Garcia Lorca. Its premiere in an Auditori with many empty seats, was a success under the expert baton of the Catalan director Josep Caballé Domenech -also based in Berlin, by the way- at the head of the Barcelona Symphony and National of Catalonia (OBC) and four notable soloists.
(…)Caballé Domenech was right in the dynamics and precision of a perhaps too long score (it lasts almost 50 minutes), but intense, with climaxes of passion, frenetic rhythms, lyrical backwaters and episodes of violence unleashed in the orchestra.
After the echoes of classical tragedy from Lorca's world, in the second part came the lights of another love, already sweet and happy, that shine in Sergei Prokofiev's great ballet Cinderella, based on the classic tale by Charles Perrault. The score, of which a suite was offered, is a prodigy of orchestral art, melodic inspiration -his great waltz is wonderful- and timbre fantasy to which Caballé Domenech bestowed charm and brilliance.