Josep Caballé conducts the JOSB
10 February 2022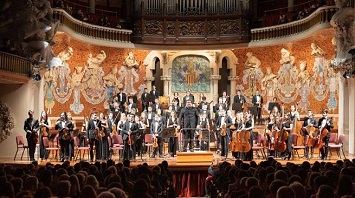 Maestro Josep Caballé Domenech will conduct the Barcelona Youth Symphony Orchestra (JOSB) on February 13. It will be in a concert at the Palau de la Música Catalana, within the framework of the seventh concert season of the Barcelona band. In addition, it is a solidarity concert in favor of Cáritas.
The program will begin with Robert Schumann's Concerto for cello and orchestra opus 129. The soloist role will be played by the cellist Ania Custodio, who was head of the JOSB at the origins of the formation of the orchestra. Now, he returns to Barcelona to debut as a soloist in this fabulous concert.
Next, Josép Caballé, one of the most sought-after masters of his generation, will lead Symphony no. 2 in D major by Brahms. Tickets can be purchased online or at the box office. The box office proceeds from this solidarity concert will go to a social project of Cáritas Castrense Barcelona, ​​which works to help the most disadvantaged.