New CD release: "Lalo & Casals Cello Concertos" with the Moritzburg Festival Orchestra
03 March 2023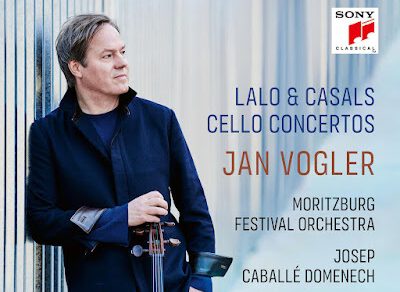 The Moritzburg Festival Orchestra and cellist Jan Vogler will release on March 3rd, 2023 the world premiere recording of the cello concerto in F major by Enrique Casals (1892–1982) – a quite unknown work – as well as the cello concerto in D minor by Édouard Lalo together with SONY Classical. The recording was made in October 2022 under the direction of the orchestra's chief conductor Josep Caballé Domenech in the Lukaskirche in Dresden at the occasion of the festival's 30th anniversary.
The Moritzburg Festival Orchestra, gathering 50 young talented music students from 25 countries, puts another milestone to Dresden's musical tradition. The Staatskappelle in Dresden recorded on the same blue seats of the studios of the Lukaskirche some of its most iconic works under the baton of Carlos Kleiber or Herbert von Karajan. Today, young musicians coming from all parts of the world, gathered in the capital of Saxony to rediscover an almost forgotten work of the classical music. Along with the cellist and festival director Jan Vogler, the young players of the Moritzburg Festival Academy 2022 – among them Russian and Ukrainian musicians – are sending thus a moving musical sign of peace from Dresden to the world.
Enrique Casals, brother of the Catalan cello player and pacifist Pablo Casals, was a violin player and a composer. He wrote his concerto for cello and orchestra in 1946, from his beach house in Sant Salvador, where the overwhelming impression is of the sea and of the surrounding Catalan countryside. The final movement is a Sardana, a Catalan folk dance. Alongside this work, the CD presents the famous cello concerto by Édouard Lalo, which Pablo Casals played in 1899 when he started his international career. The album celebrates the birth of the composer 200 years ago and is also an homage to Pablo Casals for the 50th anniversary of his death in 2023.