Josep Caballé conducts Carmen at the Festival Casals in Puerto Rico
22 May 2022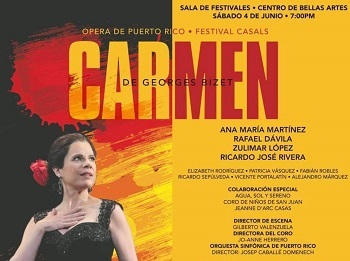 Carmen, The most popular opera in the world. All the factors come together to make the show on saturday, june 4, an unforgettable night for those who meet at the Center of Fine Arts for the closure of the Festival Casals 2022.
The titular character is for Ana María Martínez, Rafael Dávila, will be the obsessed Don José, and the main cast is completed by the soprano Zulimar López as the sweet Micaela and, as the bullfighter Escamillo, the extraordinary baritone Ricardo Rivera.
The 40-voice Choir will be in charge of Jo-Anne Herrero and there will be a special participation of the Children's Choir of San Juan. The stage direction and production design are in charge of the experienced Gilberto Valenzuela, and the Puerto Rico Symphony Orchestra will be conducted by the prestigious Catalan maestro Josep Caballé Domenech, who will be making his debut in Puerto Rico.